tripplej19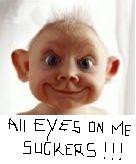 Joined: 27 Sep 2006
Posts: 838
Location: Boston, MA
Posted: Sat Dec 20, 2008 7:03 pm

 

   Post subject:

---

menkonpa wrote:
nice try hangout
but i have to say some things. The song is too complicated. too many choruses, that you don't remember the beginning of the song by the time you get to the end. hangout tries to pack up too much into one song, I think personally, that the arrangement is too complicated. How many of you will actually remember the lyrics to this song? That's where the problem lies.
The horns seem to be detached from the song at the beginning. They need to blend in more.
Frero's voice is too long, and lacks power. That's a studio problem. his voice is not leading the song at the beginning, but should be, especially amidst all these chords changes.
Too much talking from him on the song, that's unnecessary.
Besides that, nice song, nice message. I would give it a 6.5/10.



The song is not as bad, but like Menkonpa said "too much in one song" It will be hard to remember the lyrics or to even singing along. Not my cup of coffee, but will do. Good job Hangout!
_________________
"It's not wheter you win or lose, it's wheter I win"