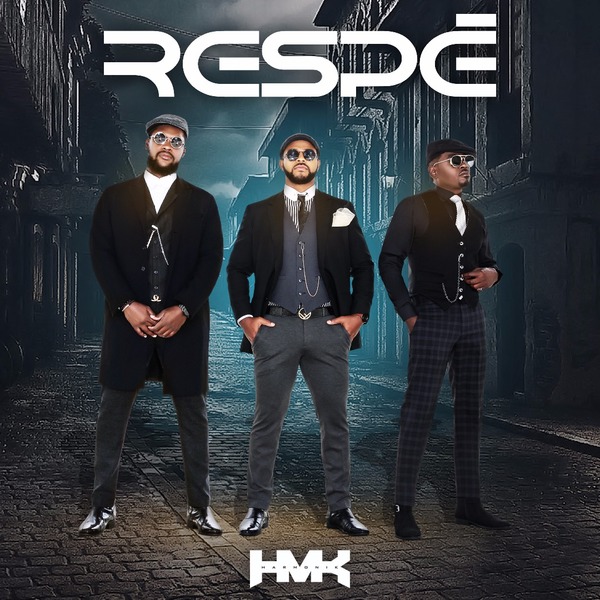 *RESPÈ: The cd starts with the title track. The group basically asking why they are still not getting the respect that they think that they deserve after their accomplishments in the business. They also basically shoutout the people that they believe are their most hardcore supporters. The highlight of the song is that TI PAPI soukous sounding guitar. This song is a candidate to be played LIVE, so let's see what HMK does with it.

*OU DETENN SOU MWEN: Very catchy and extremely easy to remember chorus. I think this song will do very well for the group. I would be extremely shocked if this song does not become a hit in the next few months. This is what you call a "TI BEBE song"....meaning minm ti bebe ap sonje, e ap ka chante chorus sa. The music video that has been released will help it along the way. Several factors will determine how big/huge this song becomes....but in my opinion...IT WILL BE A HIT.

* M AP TREPASSE: The guitar and beat was what caught my attention when I first heard the song IN THE STUDIO before the cd came out. It also does the same here, but only this time by carefully listening to the words....it gives me a brand new appreciation for the song; especially the chorus. MAC D sells the words to the song really well because OU PA TA DI LAP MOURI VRAIMENT.....SI DAME NAN PA VINI POU JERE LI.
I like the horns part in there, and the song also has that zouk vibe that can appeal to the Antilles market in my opinion. Very different and that's good.

*WAP FÈ KOVE: I like the musical party vibe on this song. GITA COWBOY LA in full mode on this song. Sanders fast pace guitar licks. This song is perfectly crafted to "KRAZE BAL"....especially that part OU GEN YON JAZ....OU PA GEN HIT (ANYEN W PA YE). Anmweyyyyyyy.....tande w anbians. mon Dieu....GITA "MEN GITA COWBOY LA". Imagine this song playing LIVE. In my opinion, it should be one of the first songs that the group practices LIVE for the BAL SCENE.....if they wait after 5/6 months, it might lose the momentum. I actually think THIS UPTEMPO SONG has a BETTER LIVE PARTY VIBE THAN THE TITLE TRACK. "THIS" should have been the kickoff song to the CD in my opinion....it has MORE of a "let's get this party started" vibe, which fits the kickoff cd role more. ANMWEYYYYY....ANYEN W PA YE.....I am basically jumping off the chair listening this track. Oh yes, this song DOES have a little DJAKOUT touch in there....and for this one song....THAT'S GOOD!

*DENYE CHANS: This was the song that stood out at me when I heard 5 songs in the studio before the cd came out officially. This twoubadou gem is simply CLASSIC and DIFFERENT...plus I LOOOOOOVE THE WORDS. Very catchy sing along track with a cool story that a lot of people can relate to. That "ETERNELLEMENT" part is going to have the crowd going crazy at parties......and every time I hear this song, I discover something new that makes me fall for it even more. MAP GAD FEINT SANDERS ak HARMONIK ak music sa. Manager HAMLER RODNEY NOEL already told me that a music video will be made for this song....I hope so, and I hope it's not done late. In my eyes...huge huge huge potential to score for the group.....and the fact that it is a TWOUBADOU makes it even more special.

*EXISTE: This song is the one that seems to have blown up right away on the CD. The early hit favorite as it seems like a lot of people have jumped on this Nickenson vocal track....and I can certainly understand why. What I like about Nickenson is that he is always up to date or advanced in the keyboard sound department as displayed on this one, and he has this "feel good" vocals...on his tracks; almost as if he KNOWS EXACTLY WHICH SONGS FIT HIM VOCALLY. MUSIC SA AP FÈ BRI LA KOUNIEN AN. Will this track wait for "Ou deten sou mwen" to do it's thing first, and come in after (just like "Incroyable" did with "Benyen" on the last CD), or will it hurt the impact of the first song/video? That remains to be seen. Many people that I have spoken to in the business are predicting "Deception" type success for this one. GADE W KADO track sa pral pou HARMONIK.

*PAPA: What a musical intro. WOW. This is the song that features the 3 vocalists on the same track, something that I was told that they will try to do on every CD. It's about the love of fatherhood. It's about how the birth of a kid changes the perspective and outlook on life from a man's point of view. It's about how great a man feels about being a FATHER/DAD about his newborn baby. It's an excellent idea to honor the FATHERS OF THE WORLD, as most people tend to rightfully honor the MOMS, but in my opinion, not enough credit is given to the great fathers of the world. This song does that justice. BRAVO!

* OU LAGEM NAN CHO feat. ROODY ROODBOY: This song could AT THE SAME TIME...be the surprise track on the cd or the "Gaspiye" song on the cd. It all depends on if the group will push the song FULL BLAST, and by that we mean do a video with Roody Roodboy, or it can suffer the same fate as Vayb's "One Night stand" with Roody; where the song is popular, but does not reach the level it is supposed to. The chorus is very catchy, and Roody does a great appearance on this track. I liked the song on the first listen. FANM kap fè gason soufri....is always a popular topic to reach a maximum audience. "SAK PI DU A....pwop KOB mwen wal boule EL RANCHO".


*PETE FYEL MWEN (feat. Anie Alerte): Solid song and solid performance by Anie on the track. A good song to solidify the CD.

*MAP FOU: "PEYI ETRANJE PA POU MWEN" is all you need to know to get an idea about the song's topic. It's basically a track about missing Haiti the motherland. It is treated as if HAITI is a lady in a relationship....and then they were forcibly separated by the guy's parents by leaving the country. Very intriguing in terms of the way the subject is treated...but it is extremely sad listening to the song, and I can imagine it being even worse if it's someone actually going through that situation. Let's put it like this, it is NOT a happy go lucky song. PA KON KISA M TA BAY POUM RETOUNEN LAKAY!
___________________

With this CD, HARMONIK proves once again that YO PA JANM FÈ YON CD KI PA BON. They have potential HITS and they have GREAT MUSIC on the CD. My only concern is the people that will try to compare this CD with their last one...trying to look for the same vibe; it is clear to see that HARMONIK is inviting you on a different journey with this one....and I DO BELIEVE THEY WILL MAKE NOISE WITH IT to keep their very important position on the HMI ladder. JAZ LA GEN BAGAY NAN MEN LI....POU FÈ BAGAY...si ou pa dakò...RETOUNEN PALE AVE M NAN 3 a 6 mwa ankò....and I STAND 100% behind it! I have been vibing to this CD a lot. Ak CD sa, HMK PA BEZWEN RESPÈ MWEN...YO TE GENYEN LI DEJA DEPI LONTAN!
KM!
Site Admin
Posts: 4408
Joined: Thu Dec 10, 2015 12:05 am