*PAST WINNERS Circle
*2016 Winner: GAZZMAN DISIP "Klere Yo"
*2015 Winner: KREYOL LA "Invictus"
*2014 Winner: DJAKOUT #1 "Lod Nan Dezod"
*2013 Winner: KLASS "Fe'l Vini Avan"
*2012 Winner: (We did not do it that year)
*2011 Winner: NU LOOK "Confirmation"
*2010 Winner: CARIMI "Buzz"
*2009 Winner: SHABBA "Pi Piti Pi Red"
*2008 Winner: NU LOOK "Abo"
*2007 Winner: T-VICE "Kite'm Viv"
*2006 Winner: RICHIE "Happy 50"
*2001 Winner: ALAN CAVE "Se Pa Pou Dat"
*2000 Winner: SWEET MICKY "Denye Okasyon"
*1999 Winner: ZENGLEN "5 Dwet/Easy Konpa"
*1998 Winner: T-VICE "Banm TVice Mwen...(Bidi Bidi Banm Banm)"
*1997 Winner: SWEET MICKY "Aloufa"
____________________________________
Here are the nominations for the 2017 CD OF THE YEAR KOMPA MAGAZINE AWARDS!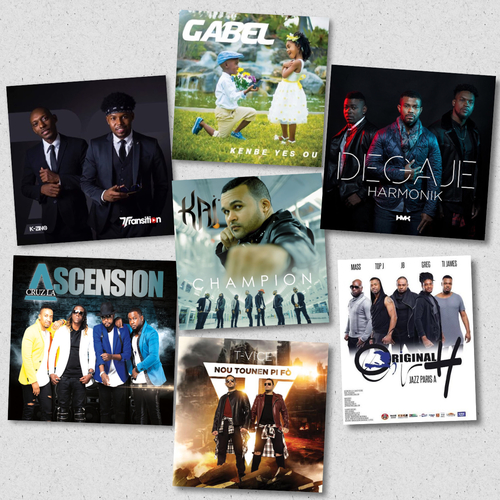 A) HARMONIK "Degaje"
B) T-VICE "Nou Tounen Pi Fo"
C) KAI "Champion"
D) GABEL "Kenbe Yes Ou"
E) CRUZ LA "Ascension"
F) K-ZINO "Transition"
G) ORIGINAL H "Jazz Paris a"
Who will win the honor?
STAY TUNED!
KM!
Site Admin
Posts: 3929
Joined: Thu Dec 10, 2015 12:05 am