PRESS RELEASE
FOR IMMEDIATE RELEASE
M.I.A. Media, Inc.
305-343-4750
MIAMediaInc@gmail.com
nycbaz@gmail.com
Baz presents a new way to party
"Weekend Hangover in New York"
New York, New York – November 1, 2016 – Baz was created by a handful of promoters in New York who desire to bring the Haitian Music experience to the next level, while bringing an extra edge to New York's party scene. Weekend Hangover is one of the events that will bring a new, state-of-the-art entertainment formula to those looking for a memorable time.
Shaped by young entertainment groups like Mr. Haiti, High Class Pioneers, Entourage, Team President and Fresh Team, Baz is setting a tone for a 5-day weekend in July 2017 that will raise the heat in New York and will create the hottest parties for the summer.
Some may say that the party scene in New York has become stagnant and in desperate need of a makeover to make it more attractive, this is why Baz has stepped in to help music lovers who are craving something more find the satisfaction they deserve.
With a mission to promote Haitian Music and help young
Haitian-Americans embrace their culture, Baz has lined up a series of events one week in July from Thursday to Monday that includes themed parties, DJ nights and a host of bands coming to New York just to turn up the summer heat.
From select club spaces to an exclusive Boat Ride, Weekend Hangover is going to make 2017 epic.
Keep your eyes and ears open as Weekend Hangover continuously updates its events with times, dates, artists and locations, even adding dates for a Weekend in Atlantic City coming soon.
Email
nycbaz@gmail.com
for more detailed information.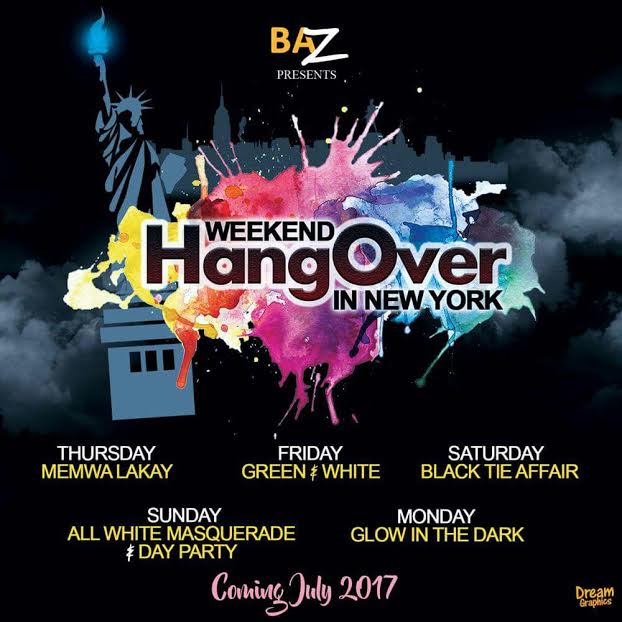 Site Admin
Posts: 4008
Joined: Thu Dec 10, 2015 12:05 am