CONGRATS TO X-TASSY!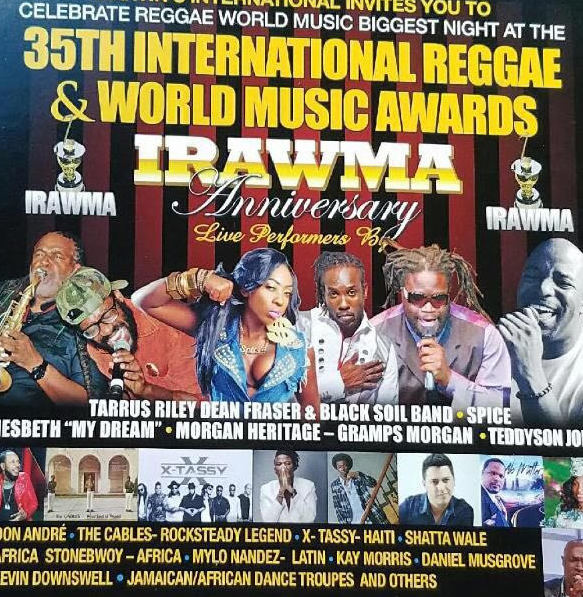 9/28/16, 8:19:53 PM: Manno Xtassy: A Haitian band performing for the first time at the
International Reggae and World Music Awards (IRAWMA)
The longest running award ceremony for Reggae and World Music, the International Reggae and World Music Awards (IRAWMA) will take place on Sunday, October 2nd, 2016 at Coral Springs Center for the Arts located at 2855 Coral Springs Drive, Coral Springs, FL 33065.
The 35th IRAMWA will showcase multicultural performers including Tarrus Riley- Dean Fraser & The Black Soil Band, Gramps Morgan of Morgan Heritage, Nesbeth, Shatta Wale (Africa), Stonebwoy (Africa), The Cables, Don Andre, Lt. Stitchie, Daniel Musgrove, Kay Morris (Gospel Act), Mylo Nandez (Latin Artist) and Jamaican/African Dance Troops.
The Haitian Konpa band, X-Tassy, will share the stage with some of the world renowned entertainers to represent Haiti. This is the first time a Haitian nominee will be performing at IRAWMA. X-Tassy is a well acclaimed Konpa band based in Miami. With the release of its first album in 2014, X-Tassy has made a reputation as a "Millennial Generation Konpa band". X-Tassy is among Haitian entertainers who have been nominated this year. They are: J-Beatz, Klass, 3Jes, Djakout #1, Rutshelle Guillaume, Kodak Black, 5Lan and Mecca aka Grimo.
"We are proud of the outstanding work of these Haitian entertainers and for their contribution to the Haitian culture. We ask the Haitian community to attend the event on Sunday to show their appreciation to our nominees and to cheer up X-Tassy", said Farah Larrieux, the Haitian community liaison for IRAWMA.
Site Admin
Posts: 3910
Joined: Thu Dec 10, 2015 12:05 am