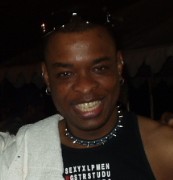 2006-03-20
IS A RICHIE/GRACIA STUDIO CD REUNION BECOMING CLOSER TO REALITY?
Is a STUDIO CD reunion of former bandmates/superstars RICHIE and GRACIA closer to becoming a reality? Find out what KM.COM uncovered about the possibilities.
The industry is at a standstill because the CD REUNION of former bandmates RICHIE and GRACIA DELVA seems to be getting closer and closer to becoming reality.

According to Richie, "I have been approached by AD Music in Paris, Richard Urbain/Venus in New York, and Kaliko Productions of MIAMI to produce a Gracia Delva studio CD. What I told them individually was that the price has to be right, and then I would have no problems doing that."

Things seem to be ok on Gracia's side as well because he apparently called Richie this month to extend an invitation to him to participate at a special event in Haiti. That is still not a done deal.

KM is pretty sure that BOTH (Richie and Gracia) would commend a lot of green benjamins from the producer(s) that would produce such a hot project. The duo had been burning up the charts as members of Zenglen before unfortunate circumstances forced Gracia to quit the band and remain in Haiti. This would reunite a winning duo that many fans in the HMI want to see work together again. Like Richie said in regards to Gracia's success on CD/records "I have the formula...Se Mwen Ki Gin Formul La in terms of hit songs for Gracia."

The two MIGHT meet in Paris next month because both of their bands will be on tour. Would someone take that opportunity to put them in the studio together to at least record a song?

A suivre.

KM!